DIXON J. SCOTT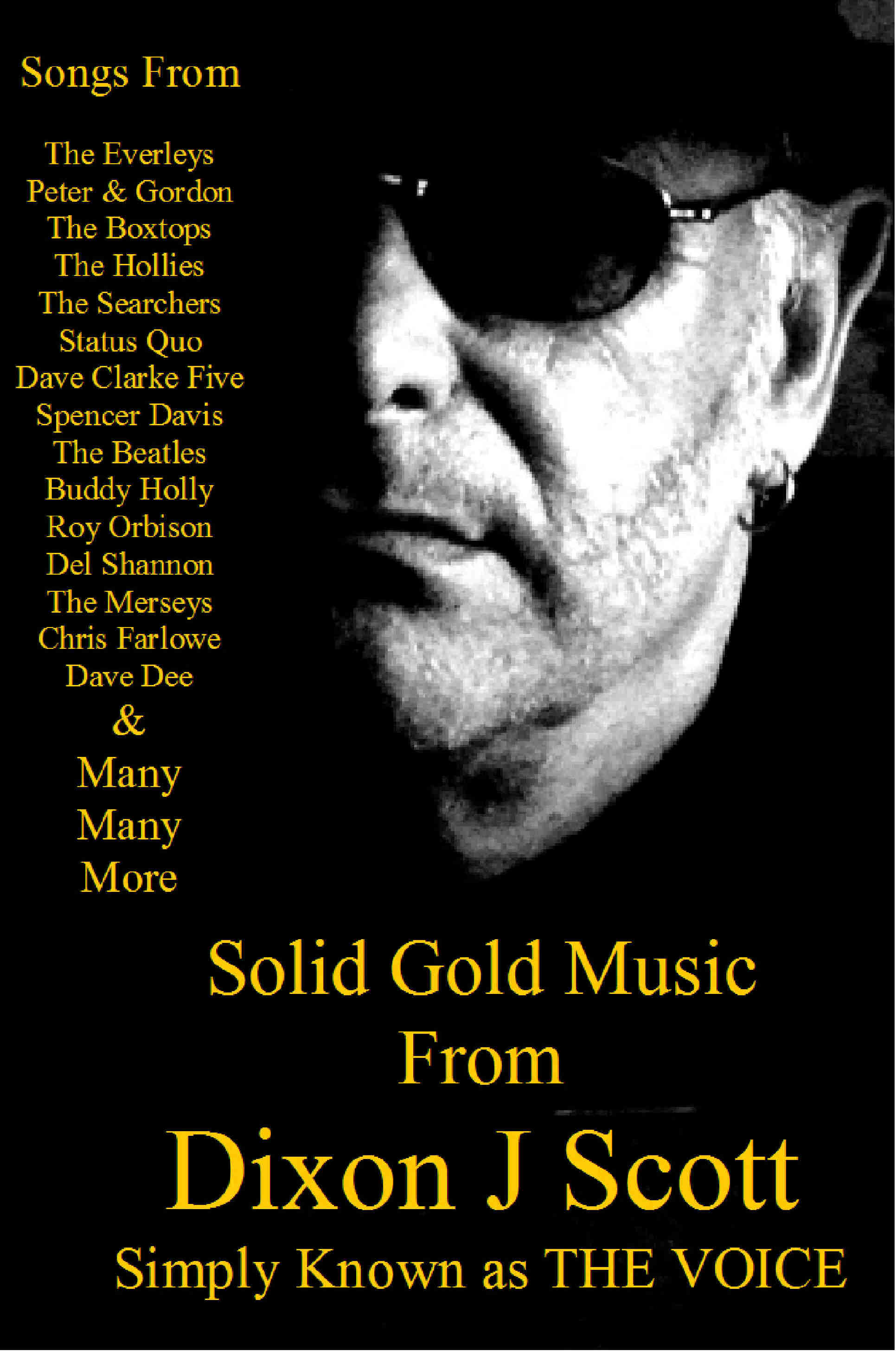 Incredible Male Vocal!
Simply Known as THE VOICE!
Dixon is a well travelled experienced entertainer whose career started as a boy in 1965 in the Armed Forces and has worked in the European & British entertainment Industry in various forms for the last 54 years, although working mainly as a solo entertainer alongside such names as Bob Monkhouse, Lenny Henry, Patty Boulaye, Cheryl Baker, The Crankies, Bernard Manning, to name but a few. He has also fronted a few of his own bands travelling in Europe with Squat Frog, a warm up band for festivals in Germany, supporting many famous Rock Bands.
Over the years his own country rock bands such as Custer's Last Band, The Sarsaparilla Kings & The Dixon Line Express. His Present Band Ridge Riders Have commanded some large audiences at festivals throughout the UK
His current band is known as the Ridge Riders A 5piece Modern Country Rock Band with some old standards thrown in for good measure.
Dixon took part in the North American Country Music Association Award Show Held In The Louise Mandrel Theatre, Pigeon Forge, in Tennessee. Awards Won Include International Country Male Vocalist of the Year International Horizon Award for Traditional Country Music Album of the Year "Forest of Dreams", International Co-Songwriter of the Year "Forest of Dreams".
Dixon's album "Forest Of Dreams" is a joint Anglo/American effort that includes some very good, original material, written and co-written by himself, and some of the finest British & American Country Music writers & musicians.
Singing songs from the 50's, 60's, 70's and 80's by artists such as:
Kinks, Traveling Willbury's, Eagles, Roy Orbison, The Monkeys, The Drifters, Status Quo, Del Shannon, The Who, Black Sabbath, Joe Cocker, Billy Swan and many more…
Recent Magazine Reviews 2018:
Well, what a night, eh? Didn't Dixon, sing outstanding, one would think he has turned the clock back 10/15 years. His biggest triumph was the two high notes in The Trilogy and California Blue, awesome!!!!! So once again he showed his outstanding talent and attributes to be at the top of our local Entertainment scene, if not the universe. But most importantly, are his other qualities, that a lot of our younger artistes wouldn't be out of place taking notes of his sustained, consistent, ever improving, day by day, edge of impact, mental and physical excellence. Dixon has set a standard, to be equalled but never beaten, anywhere, anytime and any place!!!!! Also, even if you weren't there last night, you might think these words were only a fairy tale, but no they are FACT!!!!!!!!!!!!
So for that reason, as we have all held him such high esteem is that he has become someone you would be proud of to have as a brother or father, or in my case a grandfather!!!!!!!!!!!!!!
Once in a while, a new country band arrives on the country scene that immediately sparks a wealth of interest from promoters and audiences alike. The Ridge Riders are just such a band.
With a fresh mix of traditional and contemporary country songs, interlaced with a healthy sprinkling of self-penned originals. This new band really does give the discerning audience something a little different.
Ridge Riders feature the legendary vocal dexterity of Dixon J Scott, alongside ex White Line Fever members Roger Jones, drums, Shaun Clarke, bass and Dave Moxon, guitars.
Adding to this exceptional musical fusion, is the wizardry of Paul Sowden on keyboards. The result is an all live, kicking, Country band and not a backing track in sight! You can dance to them, you can sit and listen to them, you can even sing along with them but you just can't ignore them! They are The Ridge Riders. We hope you'll come see us and enjoy what you hear!
"….. they were crisp, they were tight, they were varied, they were marvellously restrained, they were wonderful" Venue Magazine.
"…..awesome country music" The Gazette.
Book Now
X
Enquire about DIXON J. SCOTT