THE SKA-MAN!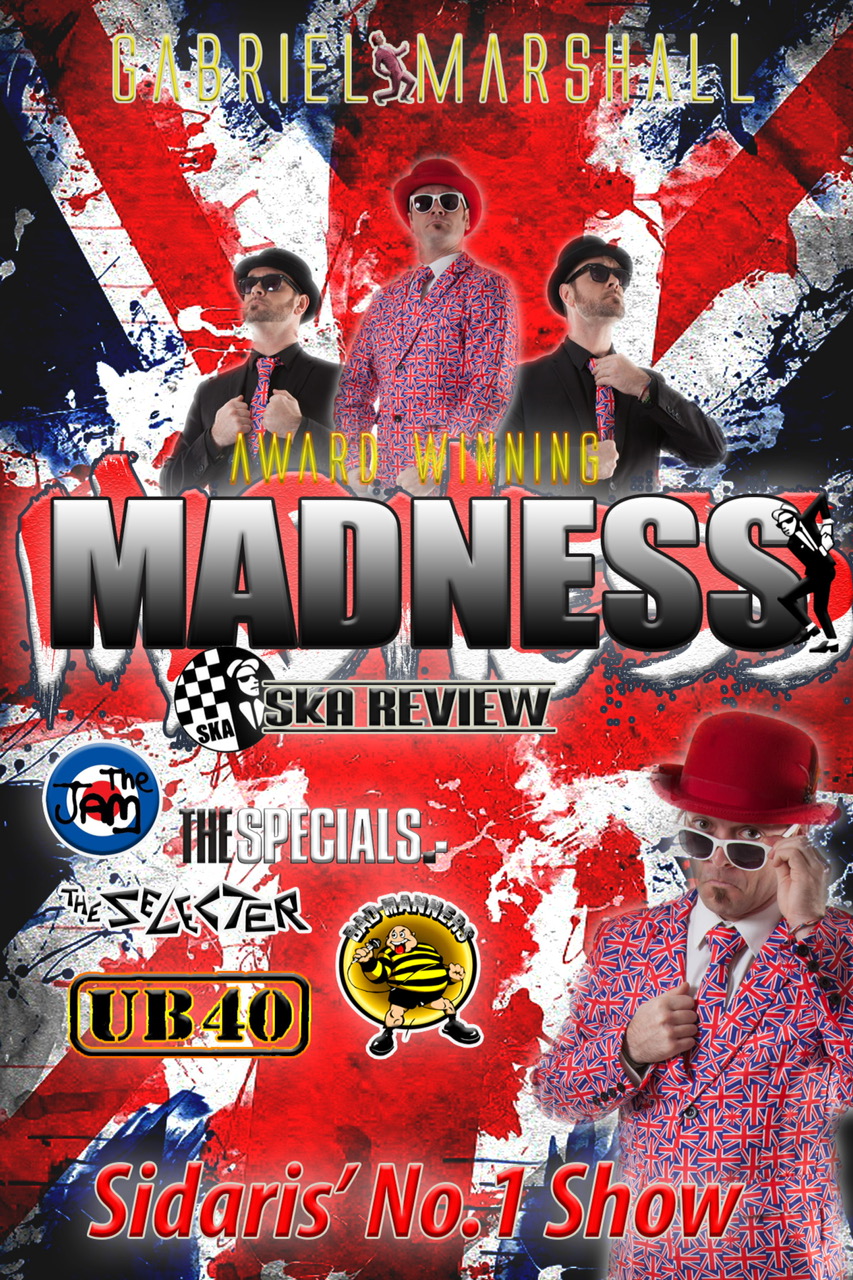 No.1 Ultimate Ska Show!
The SKA-MAN!!
UTTeR SuGGsness, has entertained audiences around the world with shows in Dubai, Dublin, Barcalona, Greece, Holland, Germany and the good old UK.
This Solo Ska tribute is based around the musi of Madness and Suggs in thier hey day and relives the energy and fun of an era.
With a sound track to keep you moving all night Utter Suggsness is a one off one man music bomb.
A fully self contained show with sound and lighting to boot you back in your chairs, this blast of a show will give you everything you want from you event…..and more.
UTTeR SuGGsness, Is a high energy high entertainment show!
Based on the music of Madness and Graham McPherson (Suggs) this shows authentic values, costumes and sound track leaves any room bouncing!
Madness, It Must Be Love
Madness, Night Boat To Cairo
Madness, Our House
Madness, They Call It Madness
Madesss, The Sun And The Rain
Madness, Shut Up
Madness, Embarressment
Madness, One Step Beyond
Madness, Wings Of A Dove
Madness, Uncle Sam
Madness, Cardiac Arrest
Madness, Driving In My Car
Madness, The Prince
Suggs, Cecilia
The Specials, Gangsta
The Specials, Message To Rudy
The Specials, Ghost Town
The Specials, Too Much Too Young
The Specials, Rat Race
The Selecter, On My Radio
The Beat, Tears Of A Clown
The Beat, Mirror In The Bathroom
The Pirannahas, Tom Hark
UB40, Kingston Town
UB40, Bring Me Your Cup
UB40, Higher Ground
UB40, Red Red Wine
UB40, Homely Girl
UB40, Maybe Tomorrow
UB40, Here I am
UB40, Groovin
UB40, Falling In Love With You
UB40, Many Rivers To Cross
UB40, Come Back Darling
UB40, Please Dont Make Me Cry
Ali Campbell, Purple Rain
Ali Campbell, Baker Street
Equipment…..
2 x Db Opera 500w Active Speakers
2 x Bishop 400w Active, Bins
2 x Bishop 400w Mids/ Tops Multi EQ Speaker
2 x Lighting rig LED Parans x 4
2 x Lazer effects units
2 x Roller backdrops
AN AMAZING SHOW NOT TO BE MISSED!!
Book Now
X
Enquire about THE SKA-MAN!