MISS MEATLOAF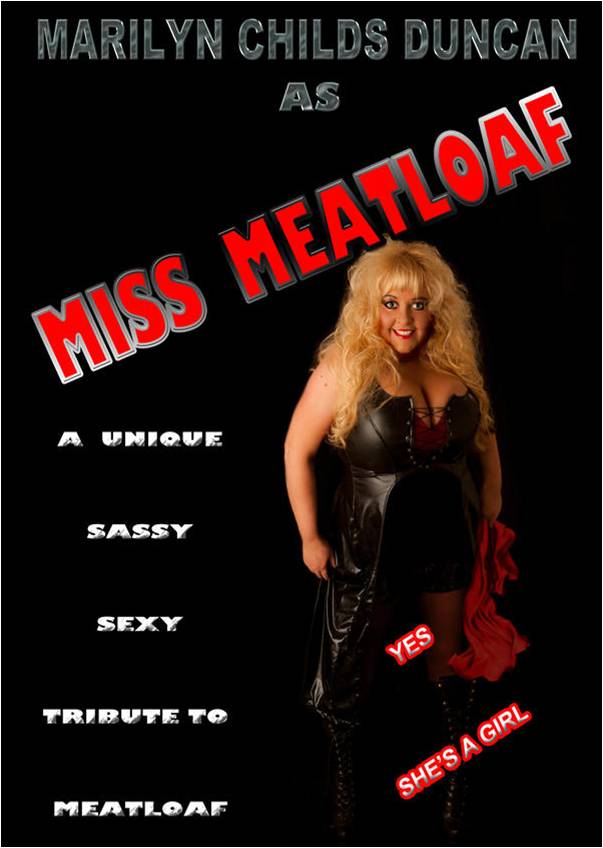 A TRIBUTE TO THE GREAT MEATLOAF WITH A TWIST
A TRIBUTE TO THE GREAT MEATLOAF WITH A TWIST
A POWERFUL…. DYNAMIC. DIVA PERFORMANCE….. OF ALL THE HITS
This is a unique show, there is no other show like it in the UK or abroad. Marilyn can take the sound of Meatloaf and make it her own! The quality and power of Marilyn's voice shines with every song, but not only that, Marilyn, performs MISS MEATLOAF involving and entertaining her audience, never a dull moment when she takes to the stage. Costume changes, full light show, and backdrop, come as standard with all Marilyn's shows.. Marilyn just goes that extra mile, to give the audience that WOW factor! Time and time again MISS MEATLOAF is recommended and re-booked.
SONGS INCLUDE:
"I WOULD DO ANYTHING FOR LOVE"
"DEAD RINGER FOR LOVE"
"2 OUT OF 3 AIN'T BAD"
"ROCK AND ROLL DREAMS COME THROUGH"
"PARADISE BY THE DASHBOARD LIGHT"
"YOU TOOK THE WORDS RIGHT OUT OF MY MOUTH"
"FOR CRYING OUT LOUD"
"HOT PATOOTIE"
"BAT OUT OF HELL"
Having performed all over the world, to many, many, different audiences and in many, many, different venues, Marilyn knows exactly what it takes to give a performance perfectly suited to where she is. Please book well in advance as Marilyn is in demand and her dates go very quickly.
Book Now
X
Enquire about MISS MEATLOAF