The Re-Claimers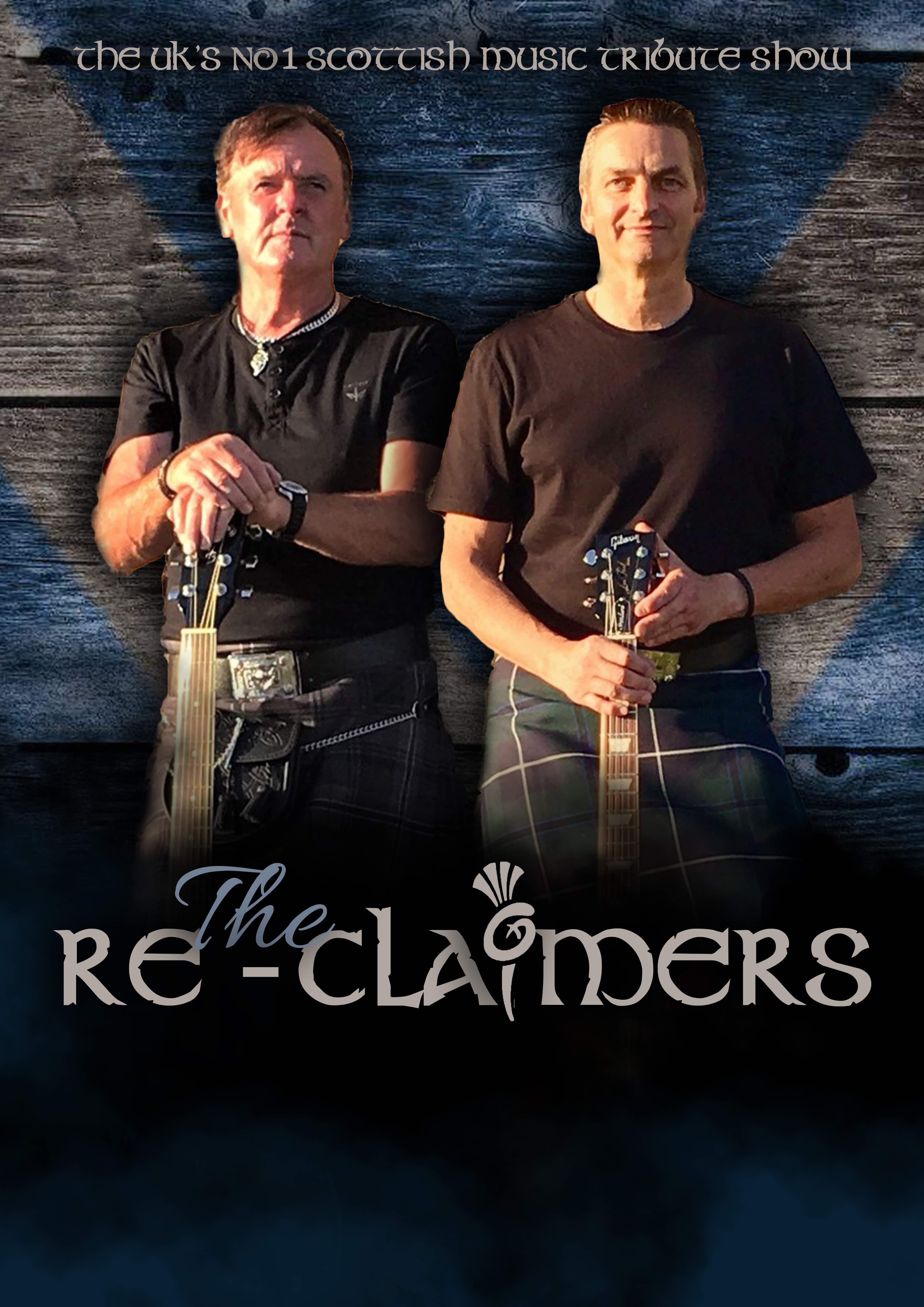 Brilliant Scottish Themed Tribute Show!
The Re-Claimers
The Re-Claimers Tribute Show was launched two years ago, as a duo act with Brian Higgins and Brendan J Carr. Due to Brendan's commitments with " The George Michael Story", Stevie Kane took his place.
Brian is a very accomplished singer. He has worked in the music industry for over 25 years and is currently in the MBGM (Michael Bublé and George Michael ) Tribute Show with my brother Brendan J Carr, as George Michael, which was launched six years ago. He was also  lead singer in a Thin Lizzy Tribute Band called "Still Lizzy" He also sung with the Wedding Band "Malibu" for over 10 years and both him and Stevie previously worked for many years as a duo called "So Be It", working in numerous pubs and hotels around the local area and Calendar, in the Trossachs .
Stevie has also worked in the music industry for many years. He is an accomplished bass/lead guitarist and provides backing vocals. He has worked in may bands over the years including "Malibu", the most recent being " The Silencers", a top-class Scottish band. He has travelled all over the world with this band. He is also an accomplished song writer and has recently written songs for the Country Music band "Raintown"
The Re-Claimers have gigged in numerous Bowling Clubs, Miners Clubs, Holiday Parks and Pubs. They have always received positive feedback from their shows, with return bookings!
Their show consist of 2 x 1 hour sets with a mix of songs from some of the top Scottish Bands and Artists, as mentioned on their promo poster. They can also provide another 45 min set of non-stop floor fillers, if required.
They also provide music before and during the break in their show, which ensures the customers have a great evening. Their dress attire is kilts, which gives a very Scottish theme to their show!!
The Re-Claimers are self-contained. They carry a top of the range Wharfdale PA System, a fantastic lighting rig and their own Sound Engineer, which gives a very professional show.
Book Now
X
Enquire about The Re-Claimers