ROBBIE ALLEN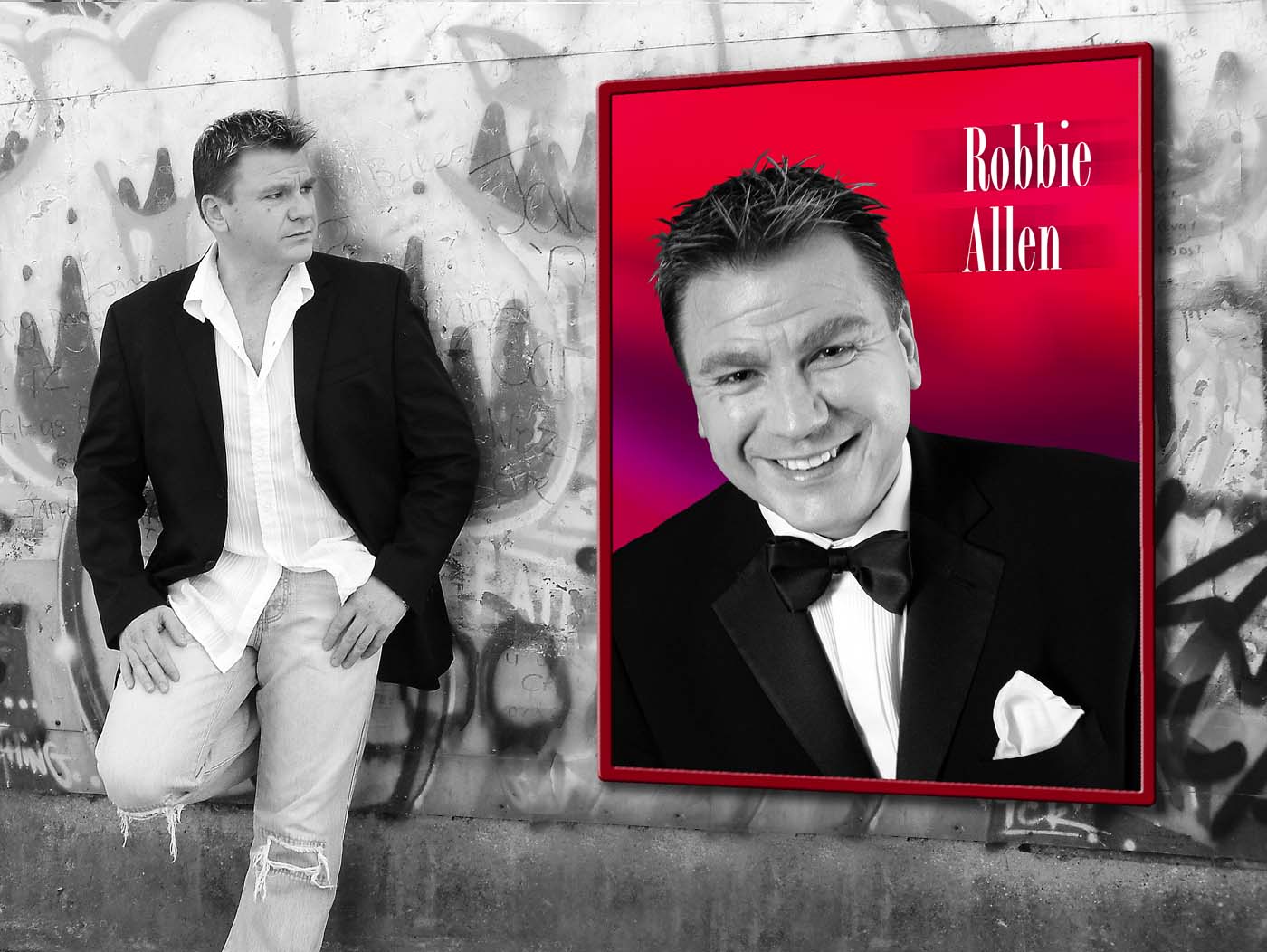 Probably One of the Best Male Vocals in the U.K.
INTERNATIONAL AWARD WINNING PERSONALITY VOCALIST IMPRESSIONIST, PRODUCER AND WRITER.
Born in Dorset in the mid 60's, Robbie's early career was just like anybody else's, bouncing from job to job, food operative, salesman, car valet, and Lab assistant.
It was only in his late teens Robbie discovered his full potential as a vocalist. During the late seventies and early eighties. Robbie was a semi professional broadcast DJ and session vocalist; this gave him his lift to the stage. Gaining confidence and presence. He also has featured on many adverts, jingles and voice-overs, from the late seventies up until 1990 when he gave it all up to become a solo cabaret artist.
Robbie first started to use his voice in a full time professional way in 1979, working for companies in Weston-Super-Mare, Southampton and Surrey. Performing advertisements, voice-overs and jingles. Although his first jingle was performed at the age of 14 and was for a famous chocolate company . He went on to perform on hundreds of adverts, voiceovers and jingles throughout the 80's. He still does the occasional V/O and jingle today. Mainly for the gaming industry.
Robbie discovered his natural talent to mimic voices while he was a DJ, and with a natural octave range of nearly four, Robbie finds it "quite easy" to perform many different styles. Including a very surprising falsetto. Robbie turned solo after numerous bands, trios and duo's and became a full time professional in 1990, without any formal stage or vocal training.
"You have got the sweetest falsetto I have ever heard" (Joe Longthorne).
"You are, very good" (Frank Carson)
"You should have been on telly years ago" (Bob Monkhouse)
"The X Factors got nothing on you" (Ronnie Corbett)
After touring British Club land and holiday centres during the early nineties, Robbie decided to base himself in Blackpool and in 1997 received 3 vocal awards, including the Blackpool command award. Robbie soon added Warner Holidays to his book of admires. 2000 also saw Robbie trial cruising for P&O and Sun Cruises, and in 2003 P&O took 11 months off Robbie's "book".
In 2001 and again in 2002 he added the North East Clubland singer of the year to his belt. And for 14 years he worked exclusively for P&O and has circled the globe four times. In 2010 he joined P&O Azura for its maiden season. And has now worked on the ship 27 times. For personal reasons he stopped cruising in 2014, and now concentrates on land based work.
Robbie is completely freelance, and is tied to no sole agent, he is always looking to further his scope of company's and clients. And is a committed professional on and off the stage. He has been working back in UK Clubland for the past8 years after a break of nearly 10 years working on the ships. "I love my job and I have now committed myself to the UK Clubland circuit." I have updated my PA to fully digital and have modest dance floor and atmospheric lighting.
Reviews from Professional work:
"Down to earth and quiet until you give him a microphone", one of the best vocalists I have ever heard". "His range is astonishing, and his diction is fantastic, I am so glad I met him and worked with him at the BBC." "It's a great shame no one will ever know it was his voice". "I suppose session vocalists are the magic that is hidden forever".
"Good luck Robbie. What a gentleman and a total professional." Richard Briers. "Next time I will treat you to a cream cake".
1998 BBC session for Radio 4 narration and vocals
(Pilot) Recorded BBC TVC
Known to his fellow professionals as a vocal technician
Robbie will always perform material that is not the norm, as one of his pet hates is constant repeated sets
By some artists.
Book Now
X
Enquire about ROBBIE ALLEN