The McCoys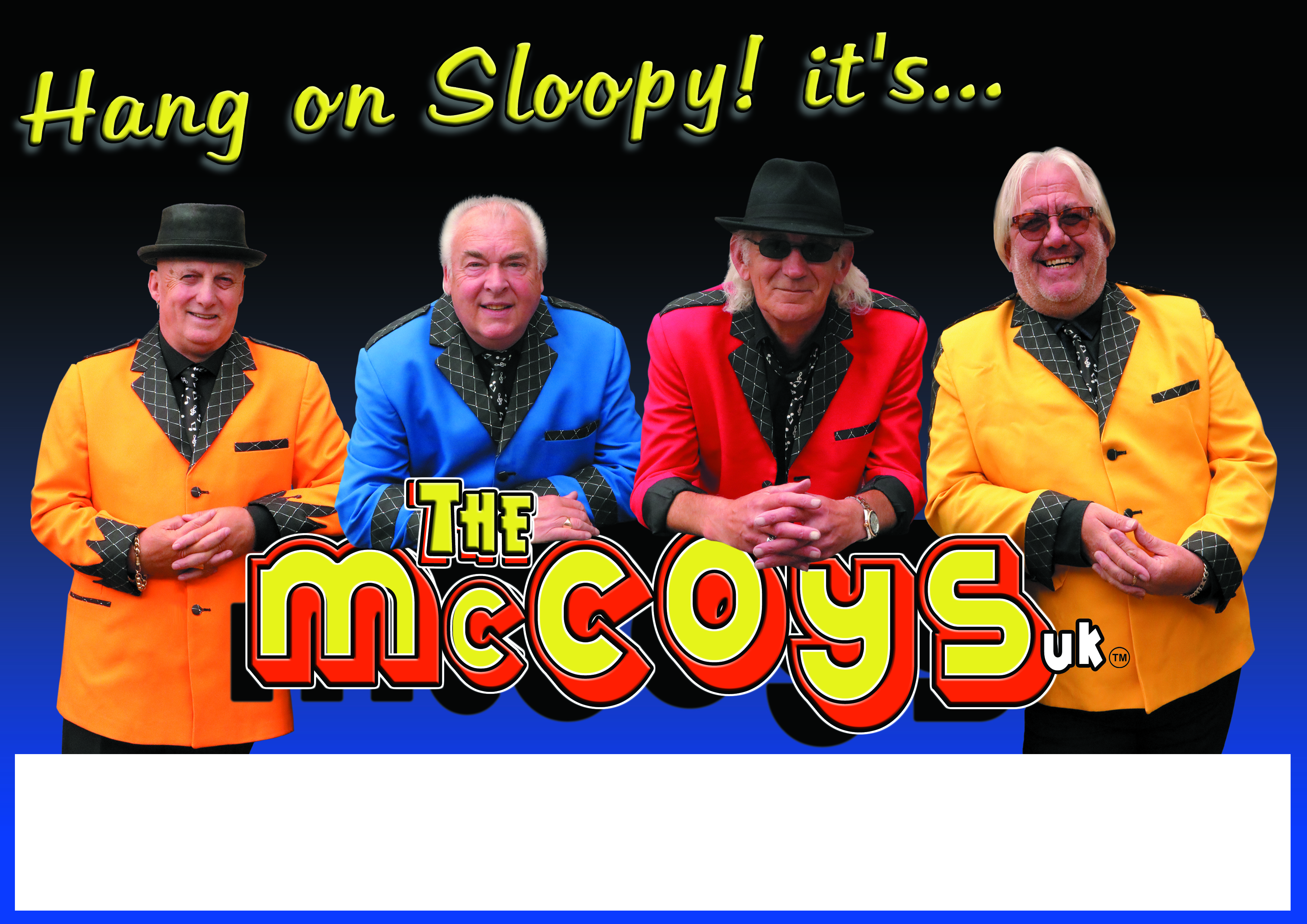 FANTASTIC 60'S BAND
When you think of the 1960's, you think of the golden era of music with so many hits!
For those fortunate to be there, the Swinging Sixties was a magical time for popular music, a truly golden age which spun hit after hit. And one of the most memorable was The McCoys' interpretation of Hang On Sloopy, which became a monster success, and is still hugely popular today. And it was being there, loving that wonderful time and its songs, which led to four talented British musicians fostering their special memories, preserving them for live audiences to enjoy anew today, keeping alive the McCoys name, with Hang On Sloopy and Spencer Davis's Keep on Running being just two examples of a superb repertoire from the Sixties.
Martyn McCoy.
Martyn McCoy, who started playing in 1965, is a powerhouse drummer who frequently works as a session player for groups such as The Cufflinks, and Billy Fury Tribute. Previous bands include Hedgehoppers Anonymous, Why Not and, for the last 26 years, Martyn teamed full time with top midlands 60's harmony band Krys.
Ian Michael.
Ian Michael is musical director of McCoys uk, has tremendous experience across the music spectrum, having worked as keyboard player, musical director, vocalist, guitarist, band leader (resident holiday park band) and sound engineer and worked directly with luminaries such as Toni Iomi, Glenn Hughes, Su Pollard, Matthew Kelly, John Bishop, Mamma's Boys (Cliff Richard's backing vocalists), Sight N Sound, Blade, Rocket and Tears to name but a few. In recent years Ian had toured as a solo performer for Air Tours and Thomson Holidays, and in a resident duo for Thomson Gold.
Dave Crane.
An acoustic and bass guitarist, as well as a lead and backing singer, who for several years entertained on cruise ships before touring Britain and Europe with the Bridgetown Concert Show Band. More recently Dave has been working with Phoenix and deputising with Lynnx.
Andy Fern.
Andy started playing guitar in the early 1970s at a very young age and inherited a love of The Beatles and all things Sixties from his Dad. Andy has been running his own successful guitar tuition business since the early 90s and has been playing live for over 35 years. As well as performing solo, Andy has played with many bands, including Axis Soul Band, Coventry Mod band Pritty Green and his own 60s band The Carnaby Beats.
Our Repertoire. Classic songs from the 60s:
Hang On Sloopy, Get Ready, My Girl, Substitute, Don't Let The Sun Catch You Crying, When You Walk In The Room, Needles And Pins, Don't Throw Your Love Away, Young Girl, Jesamine, The Letter, Sorrow, Ferry Across The Mersey, Happy Together, Keep On Running, Eleanor, Gimmie Some Lovin', Out Of Time, Day Tripper, Twist And Shout, Back In The U S S R, I Saw Her Standing There, Pretty Flamingo, Wonderful World, Cupid, Chain Gang, Itchycoo Park, Everlasting Love, Daydream Believer and many more…
Book Now
X
Enquire about The McCoys