CARRIE STEELE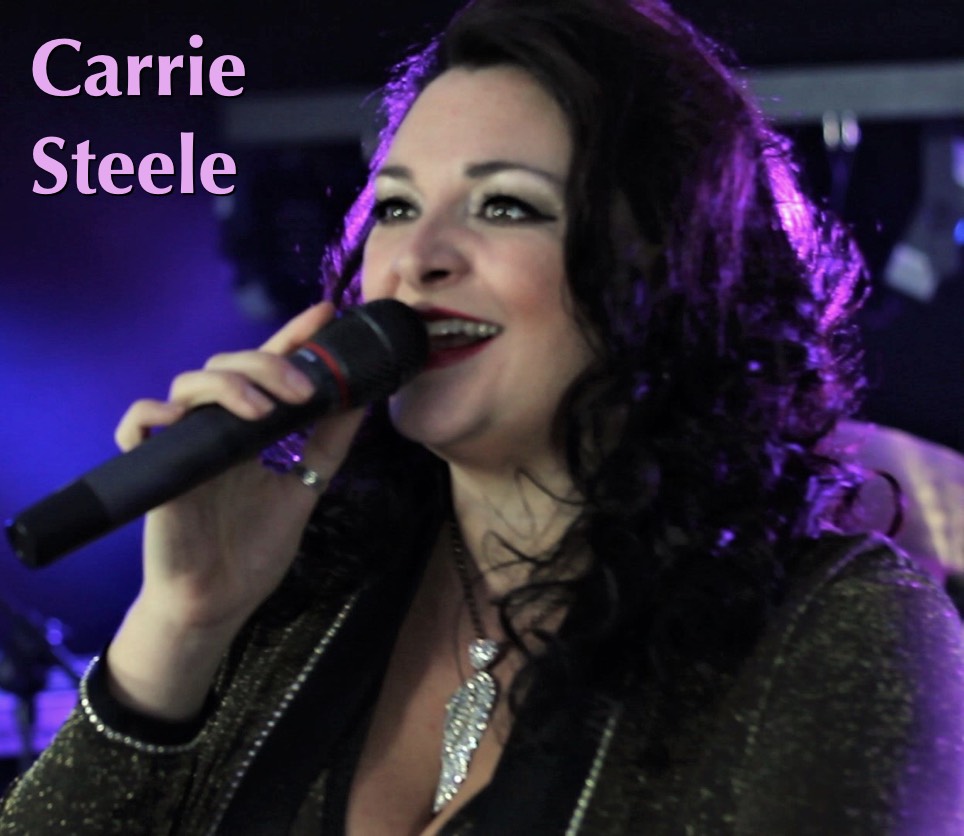 Stunning Vocaliste!
Carrie began her career at the age of five playing 'Molly' in the Tyne Theatre Production of Annie in 1985. She then appeared in the finals of Saturday Superstore's Children's Talent Contest on the BBC in 1987, then starred in a Christmas T.V advert for Eldon Square on Tyne Tees Television. From December 1987-February 1988 Carrie played Jill in Babes in the Wood at Darlington Civic Theatre, starring alongside Linda Nolan, Stu Francis and the Chuckle Brothers.
After winning the final of the Pontins National Junior Talent contest in 1988 she went on to win the Wear Valley Music Festival in 1992. She appeared in the Durham Youth Theatre Productions of 'Jesus Christ Superstar' and 'Chess' in 1993 and 1994 then started performing as a solo artist both self contained and with live musicians, performing in various venues and holiday centres across the U.K and joined equity at the age of 16.
In 1998 Carrie began performing Corporate Cabaret to launch New Car Show Rooms for Vauxhall Astra and C.D Bramwell. In June 1998 she reached the final of the Talk of the Coast talent contest in Blackpool and as a result was asked to appear in a charity Show on the North Pier Blackpool alongside Joe Longthorne, Darren Day, Mick Miller, Johnny Casson, The Grumbleweeds and The Nolans. The same year Carrie sang at Roy Chubby Brown's end of season party in Blackpool alongside Frank Carson and Cannon and Ball.
In 1998 Carrie obtained her BTEC National Diploma in Popular Music then went on to gain a B.Mus (Hons) degree in Jazz, Popular and Commercial music. During her years studying she won best soloist for jazz vocal in a Musicians Union sponsored College Big band Contest and as a result began singing with a big band at regular dance venues.
In 2000 Carrie began working as a session singer and has sung various commercials for local and National radio stations and from 2003 has sung lead vocals in some of the north easts most high profile function bands. In June 2003 she performed at a James Bond themed charity event attended by Sir John Mills CBE at Pinewood Studios in aid of the Milton Margai Blind School in Sierra Leone. In July 2003 Carrie won the final of The Alabama Showboat Talent contest in Blackpool.
Carrie began teaching in 2004 and has worked in some of the north easts most prestigious education establishments, Academies and Stage Schools covering primary, secondary and higher education – teaching vocals, performance and music including 'Rock Schools', master classes, Cluster Groups and Choir Workshops. Carrie also works as a private vocal coach.
Between 2004-2007 Carrie recorded several original pop songs by Roy Chubby Brown which appeared on a charity album. In 2006 and 2007 Carrie performed live shows internationally touring Russia with Dance DJ Chris Scott to promote the dance single 'Not Enough' which she sang and co wrote – released in July 2007. On Remembrance Sunday in 2007 Carrie Performed her Millitary Show at the Lancastrian Suite for the British Legion. She then performed at a Christmas Choir Performance at the Sage.
Present Day – Carrie continues her session work, teaching and performing professionally across the U.K both solo and with 'The Carrie Steele Band' and is regarded as one of the north easts most accomplished, diverse, talented and experienced vocalists.
With a degree in Music (BMus Hons) Carrie works as a vocal coach and has taught in some of the North East's most prestigious education establishments. Carrie is also an accomplished session vocalist – her voice is featured on many well known T.V and radio adverts.
Book Now
X
Enquire about CARRIE STEELE
---