EDDY POPESCU as ELVIS!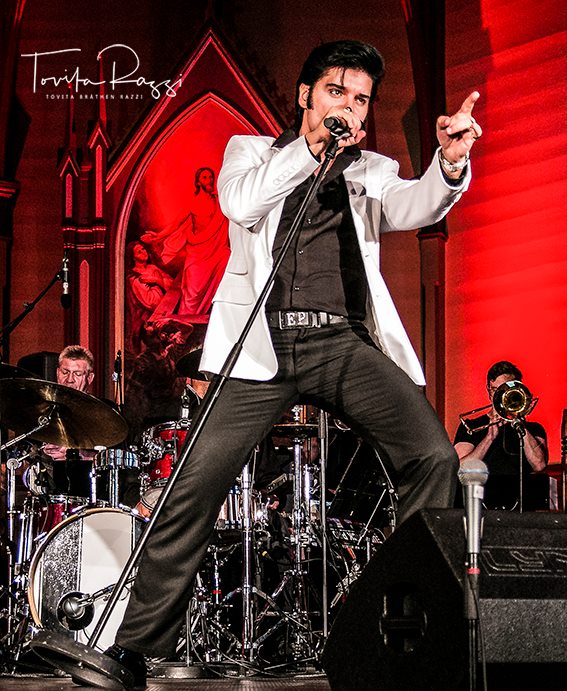 No.1 International Tribute to ELVIS!
Eddy was born in Constanta Romania in 1977. As a 6 year old Eddy first saw Elvis in the film " Fun In Acapulco " and ever since then wanted to be a singer like him. Aged 16 he started to learn guitar along with some Elvis songs. Still at a young age Eddy started to sing at shows in his local town and after a few years he was asked to join a leading band in Romania called ONIX. Eddy sang with the band at events across Romania for many years as well as appearing on National TV Shows.
In 2010 Eddy moved to The UK with his family and after a while began busking outside Marks & Spencer on Northumberland Street in Newcastle. He joined a local Rock n Roll Band but after a short period decided it would be best to go solo. Around this time he was spotted by an Agent who started booking him into local Social Clubs and Pubs. Eddy would perform songs by the likes of Neil Diamond, Tom Jones, Michael Buble, Dire Straits and obviously some Elvis. Quickly he established himself as a very popular entertainer on this circuit and was awarded by The Concert Secretary's Federation as the best newcomer for 2012.
It was around this time that Eddy started to put together with great success his full tribute show and Forever Elvis was born. In 2014 Eddy competed in The European Elvis Championships in Birmingham and was crowned The European Elvis Gospel Champion for that year. Eddy competed at the same event again in 2016 and made the final of The European Elvis Championship, narrowly missing out on first place.
2017 Denmark Festival Image of the King 2nd place people`s choice
2017 Porthcawl Elvis Festival – The best 68 Special Comeback award
2017 Canada Flaming Star Festival – 1st place Gospel Winner / 2nd place PRODIVISION  & People`s Choice Winner
Book Now
X
Enquire about EDDY POPESCU as ELVIS!
---
---