ELLY JARMAIN AS MADONNA & CHER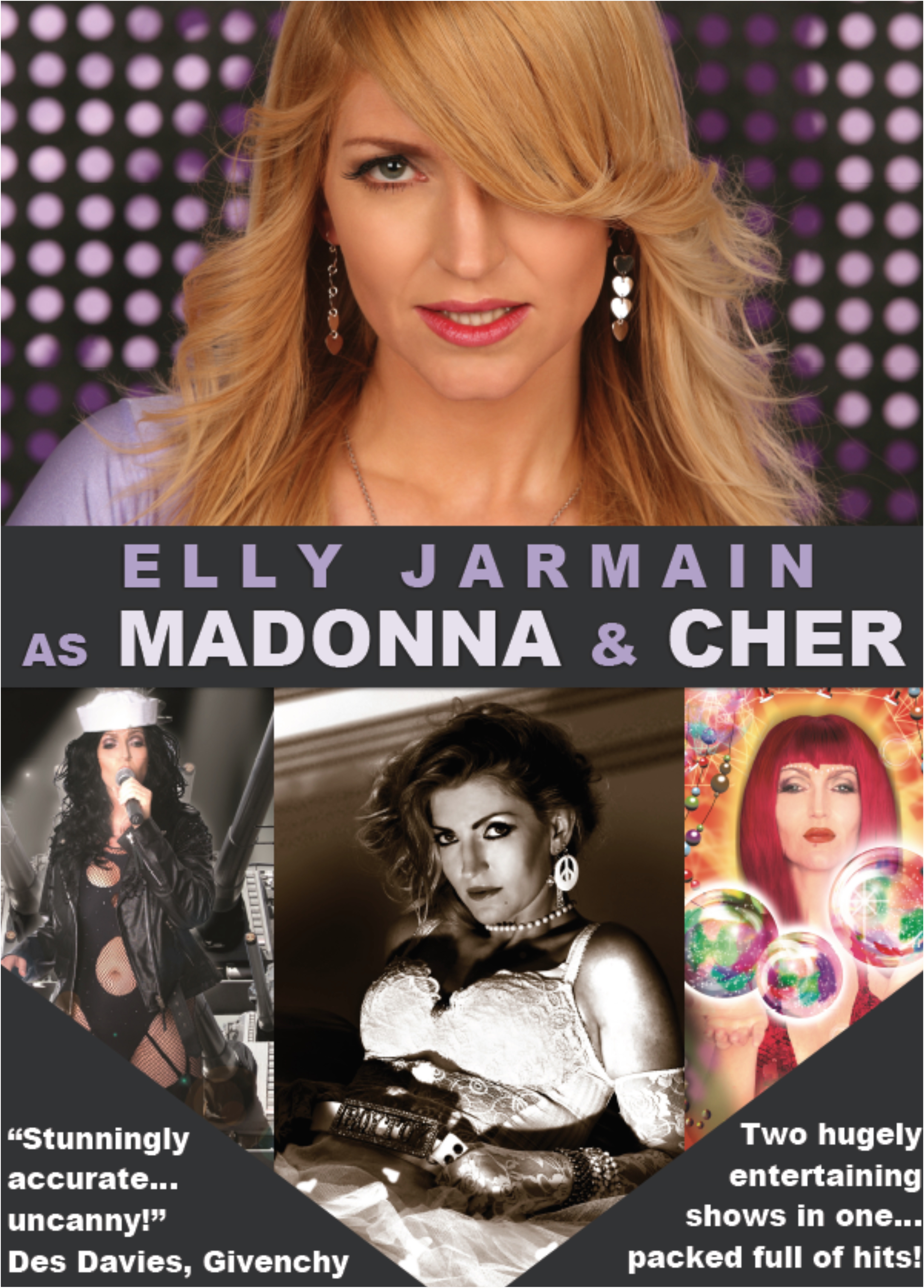 FANTASTIC TRIBUTE TO MADONNA & CHER
Bringing us all the biggest hits from Madonna's phenomenal 25 years of world
domination, Elly Jarmain leaves no stone unturned in her attention to detail in this
spectacular stage show. The voice, the moves and the image are all perfectly
recreated by this uncanny lookalike, who reminds us all why Madonna is the
biggest selling female artist of all time.
The show is based around the Queen of Pop's sell out tours, and creates such a
buzz that audiences frequently turn up in full Madonna costume, not unlike a night
out at the Rocky Horror Show!
Elly as Madonna touches the heart of 80s nostalgia, with songs such as Like A
Prayer, Material Girl, Like A Virgin and Holiday. She entices us to the dance floor
with Vogue, and just when you start to wonder how many more instantly
recognizable songs Madonna could possibly have released, launches into her more
contemporary chart successes such as Hung Up.
It's Madonna – how she was and how she is… and this superb production makes it
clear why Elly has been striking a pose and getting into the groove at venues all
over the world for the last fifteen years.
Cher's endless back catalogue of hits (not to mention her
flamboyant costumes and wigs!) ensures that this legendary
lady's appeal endures, and Elly Jarmain's remarkably accurate
portrayal of her must be seen, and heard, to be believed.
From Cher's 60s debut with Sonny Bono and her success in the
80s and 90s with songs such as "Turn Back Time" and "The
Shoop Shoop Song", Cher then returned to mega stardom
when her Grammy Award winning dance track "Believe" sold
more than 10 million copies worldwide. Fast forward to the
current decade and Cher's success is still going strong, recently
starring alongside Christina Aguilera in the hit musical
"Burlesque", and releasing her 25th studio album, Closer To The
Truth.
Having toured the world as a successful tribute artist for the
last fifteen years Elly recreates the highlights of Cher's
phenomenal career, with the distinctive voice, the outrageous
look and the dry wit down to a fine art. Her impressive client
list includes industry giants such as Microsoft and Boots, and
she has been a regular feature at events for Chanel, Dolce &
Gabbana, Givenchy and Versace.
Book Now
X
Enquire about ELLY JARMAIN AS MADONNA & CHER