JOHNNY CASH Revisited!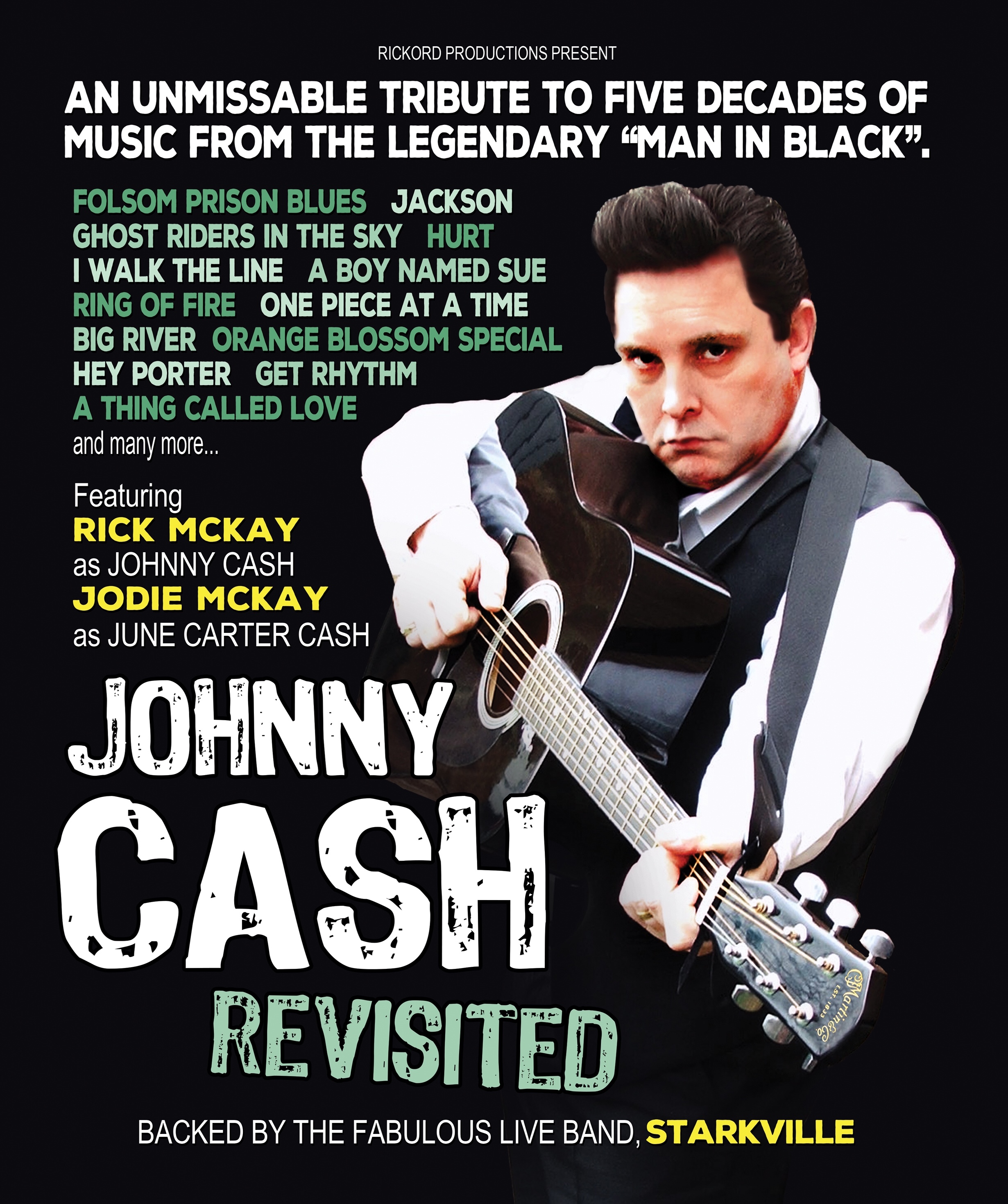 Amazing Tribute to Johnny Cash & his Band!
About Johnny Cash Revisited
SHOW IS AVAILABLE SOLO or 6 Piece Band!
 Rick McKay has been in the entertainment industry for 35 years and during that time has performed in a number of theatre roles, shows as both, a multi-instrumentalist, vocalist and actor. Most notable are his successful portrayals of "Elvis Presley" in the 1980's, country superstar "Garth Brooks" in the early 2000's and more recently as "The Big Bopper" in "Buddy Holly's Winter Dance Party".
In 2012 he began work on Johnny Cash Revisited, which gave him the chance to pay tribute to one of his childhood heroes and one of the very first artistes ever to inspire him to choose a musical career.
The aim was to recreate, as close as possible the experience of seeing the "Man In Black" live in concert, as Rick himself had seen him in the early 90's. With his real life wife and on-stage partner since 2000, Jodie in the role of June Carter Cash, backed by the incredibly authentic sound of "Starkville", Johnny Cash Revisited does just that. From the sound of the double bass, twangy guitars, to that unmistakable "boom chicka boom", freight-train drum rhythm, the band highlights Johnny Cash's hits in the finest detail, topped off with a vocal performance from Rick McKay that'll have you believing that you're listening to Johnny Cash himself.
Short Description & information for Venue's
 Johnny Cash Revisited is a two-hour musical rollercoaster of classic Country, Rock 'n' Roll, and Rockabilly music! Rick McKay and special guest Jodie McKay pay tribute to Johnny Cash and June Carter with the fabulous live band, Starkville, to bring you an exciting and fun show spanning 5 decades of great music from the man in black and his musical friends!
Hear all the classics from "Hey Porter", "I Walk The Line", "Ring Of Fire" and "Folsom Prison Blues", to "A Boy Named Sue", "San Quentin", "Sunday Morning Coming Down", "One Piece At A Time" and the incredibly powerful "Hurt".
Quotes
"After hearing so many great things about Rick McKay and Johnny Cash Revisited I am totally excited to have the opportunity to work on stage with them during our U.K. tour in May 2016. Rick and the band are doing an excellent job of keeping Johnny (Cash's) music alive and well in the U.K. and for that we are grateful" 
WS "Fluke" Holland. Drummer with Johnny Cash & The Tennessee Three 1960 -1997
Book Now
X
Enquire about JOHNNY CASH Revisited!
---
---