Pretty In Pink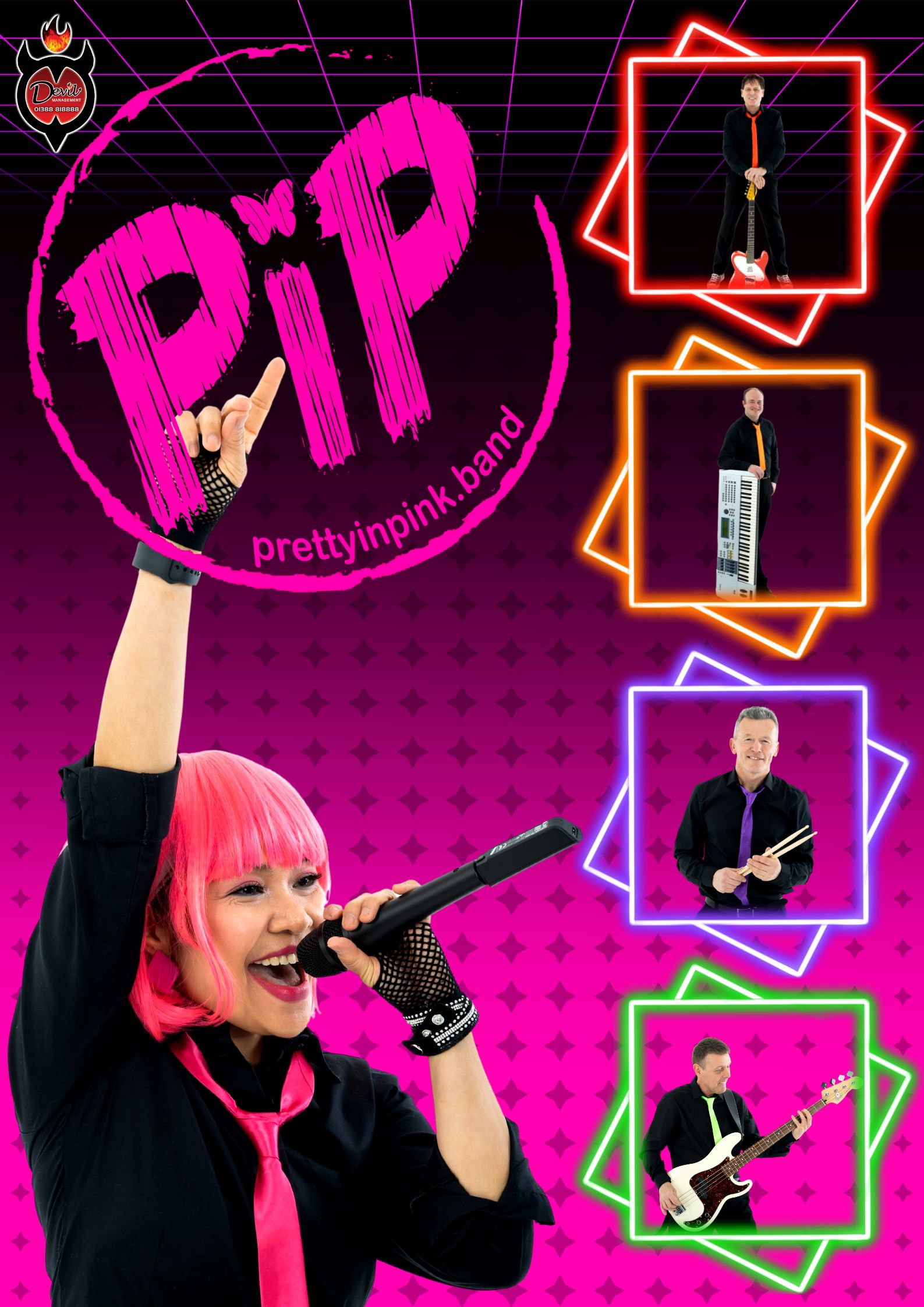 Amazing 80's 6 Piece Band
PRETTY IN PINK are a 6-piece, fully live band bringing the best of the 80's with vocals of the fabulous Mika Mamon and Daniel Hunt who also provides guitar and keyboards. Together they create a vocal soundscape vital to that decade and, having both male and female front vocals, the band can cover any track from the era, supported by the neat guitar of Peter Bond, metronomic drumming of Paul Lewis, impressive keyboards of Richard Bailey and bouncing basslines from Dave Cannings. They also have a resident sound/lighting engineer in Jon Sibson.
Performances feature music from the likes of Madonna, Bryan Adams, Blondie, The Bangles, Human League, Spandau Ballet, Whitney Houston, Bruce Springsteen, Bon Jovi and many more.
Mika was described by the media in her solo work as "a cross between Bjork and Kylie Minogue" and as "Asia's answer to Madonna", so perfect to front an 80's tribute act.
Paul and Dave toured for years in tribute band The Clashed and members of the band have featured alongside Oasis, Foo Fighters, Tom Jones, James Arthur, Altered Images, Depeche Mode, Texas, A Flock of Seagulls, Bastille, Tina Turner, Chubby Brown (don't ask!) and more, on stage, as session musicians or as support bands so there is a fab pedigree and some great stories from them.
You are assured of an event full of competent professionalism and ultimate fun!
Clients, in addition to dozens of happy couples at weddings and anniversaries, families at events, and festival organisers, have included Coca-Cola UK, Jaguar-Landrover, Football, Rugby, Golf and Cricket Clubs, David Lloyds, Carfest, BBC & Chanel 4, Sky News and Waitrose in addition to parties of the tastefully famous including Delia Smith, Bryan Robson and Duncan Bannatyne. More stories to tell! Individual members have performed across the globe including at major festivals and events such as Lollapalooza, Mela, Leeds/Reading and Pinkpop so they are an experienced and professional outfit.
Stage performances include state of the art misting and laser effects as appropriate to the venue and sound engineering is included with a range of PA system needs and wireless systems to give some freedom to performers and minimise hazards. You're in safe hands and we're ready to bring you a show that is a fitting tribute to the best and most diverse decade of music: The 1980's!
Book Now
X
Enquire about Pretty In Pink