REVOLUTIONAIRES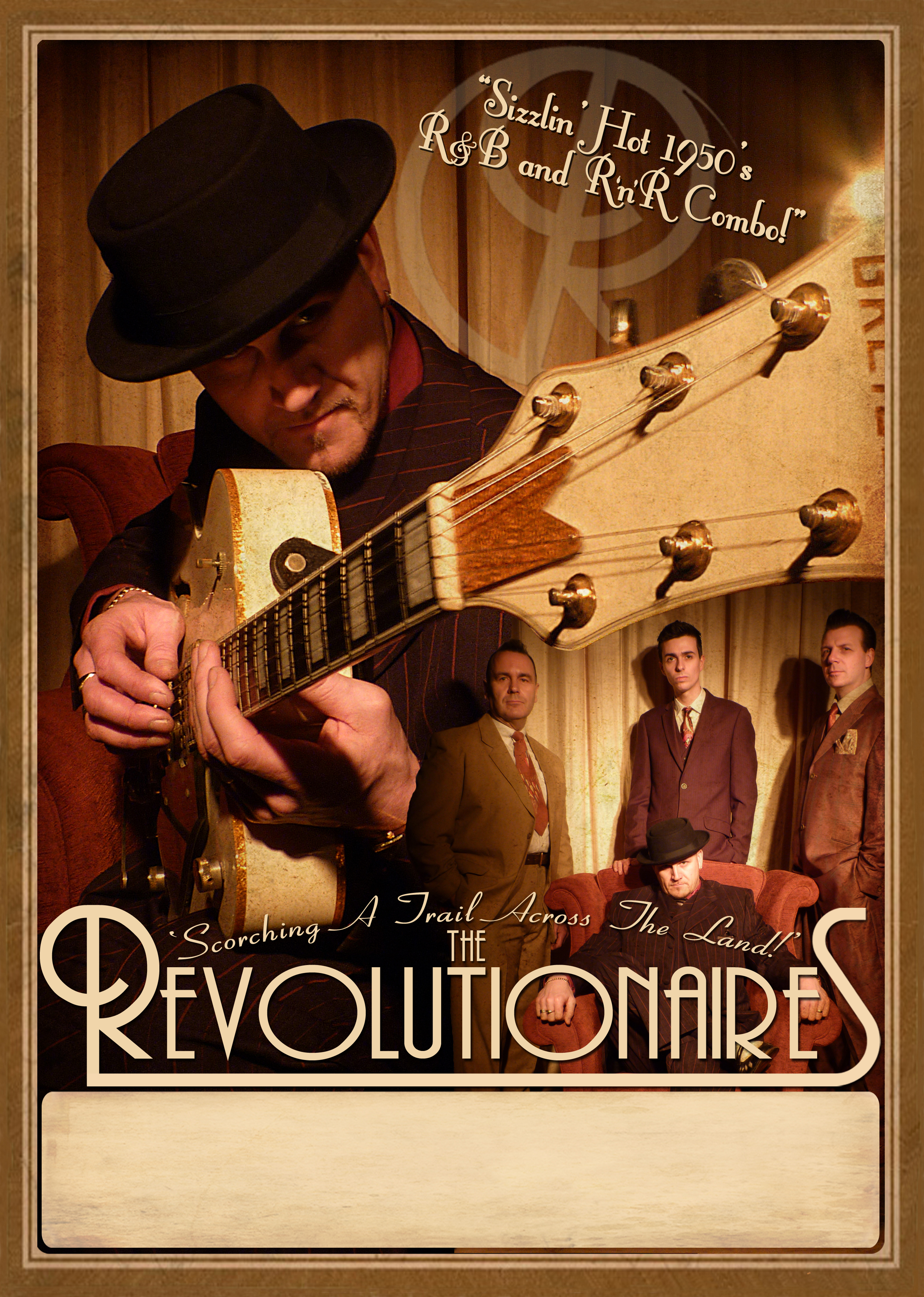 'Big 50's Band'
Scorching a trail across the live music venues of the land is this sizzlin' hot 1950's R&B combo…
…The Revolutionaires!
Established within the 'hotbed' of the North East music scene in the UK, they power out jumpin' hot rhythm & blues in their own indomitable hard hitting style.
Primarily, they are influenced by 1940's and 1950's R&B. In particular, Louis Jordan, Big Joe Turner, Little Richard, Chuck Berry and Roy Brown but have adopted a harder and more aggressive approach, synonymous with modern blues artists such as Stevie Ray Vaughan, Duke Robillard, Jools Holland and Mike Henderson which helps create their own high energy sound.
Over the last two decades, The Revolutionaires have established themselves on the UK and European Rockin' circuit, as well as the Blues scene.
They have toured extensively  both in the UK and abroad, performing at festivals in Ireland, France, Belgium, Luxembourg, Holland, Germany, Norway, Denmark, Italy, Spain, Malta and Dubai.
Highlights include performing at festivals with artistes such as Jerry Lee Lewis, Sting, Tom Jones, Hugh Laurie, Jimmie Vaughan, Robert Cray, Walter Trout, Eric Bibb, Albert Lee, Snake Davis and Dave Edmunds.
Now also touring with their Big Band project which consists of extra horns and pianist, The Revs are hitting the Festival circuit with this power house line up and big sound.
They have recorded five CDs to date containing a collection of Hot Rockin' R&B tracks. Each CD captures the 'rawness' and sheer energy of the band, who like to give their performances a 'hard-edged' vibe!
If you 'get yourself down' to a Revs gig, in the words of the
Ronnie Molleen tune ….
…." We'll be rockin' up a storm tonight! "
Book Now
X
Enquire about REVOLUTIONAIRES
---