Tina Turner Tribute – Simply the BEST!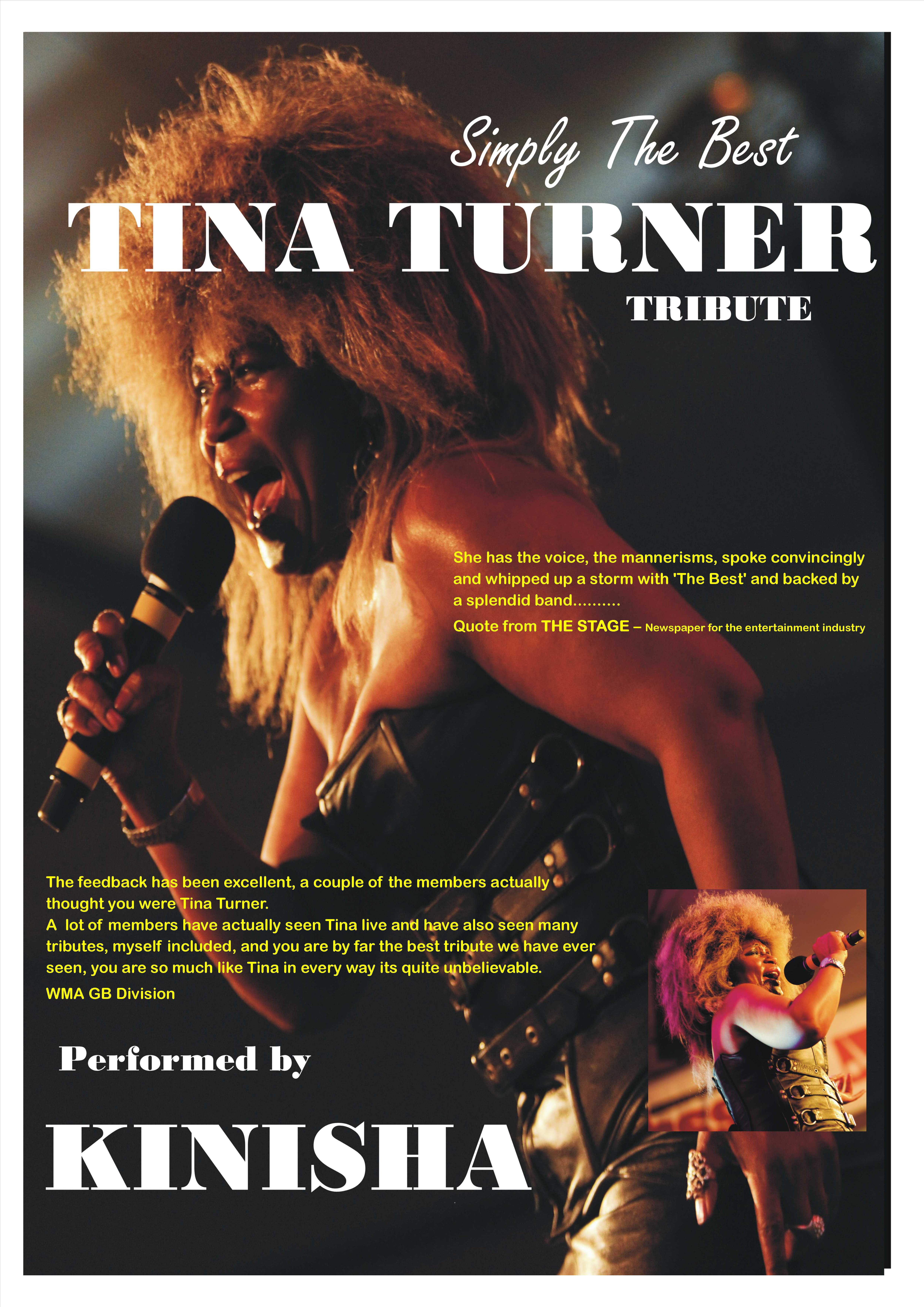 No.1 Tribute to this amazing star!
Solo

:     A polished performance supported by quality pre-recorded tracks

Fully Live

:     A fully live performance where Kinisha is joined by 5 top class musicians – Keyboard, Lead Guitar, Bass Guitar, Drums, Saxophone to recreate the full concert performance

Other Options

:   Gorgeous 'Ikettes' backing singers to complete the line up

All line ups are supported by our own Sound and Lights Technician
She has the voice, the mannerisms, spoke convincingly and whipped up a storm with 'The Best' and backed by a splendid band……….Quote from THE STAGE – Newspaper for the entertainment industry
Eastleigh F.C.
Hi Kinisha
It was a pleasure to have you both at Eastleigh FC.
As a speaker/mc for over 20 years I have worked with many tributes and you were outstanding both in your superb voice plus your warm and exciting presentation. You are more than a tribute you are an entertainer!
With warmest regards and every blessing to you both.
Denis Bundy
Lady Vanessa Bernstein, Manchester
A note of thanks for putting me in touch with Kinisha who gave an outstanding performance of her Tina Turner Tribute for my 50th birthday celebrations.
Both Kinisha and her husband Barry were very accommodating to all our wishes.
Not only were my family and I enthralled with her performance so were all our guests.  Kinisha made the party successful – her voice and style were magnificent.
The atmosphere was equivalent to participating in a live concert.  We were fortunate that the weather was dry and warm and we were able to have the performance outdoors.  All our guests danced passionately to Kinisha's songs on the grass which became a stage and dance floor!
The performance was captured on dvd which has been enjoyed so many times by those who view it.
I would have no hesitation in recommending Kinisha and I look forward to having another party with her presentation.
Many thanks once again.
Yours
Vanessa
WIMA International Rally  (Women's International Motorcycle Association)
Hi Kinisha,
Great to hear from you, and to know that you enjoyed performing at the Rally.  It was a fantastic evening and you where spectacular, everyone absolutely loved your performance.  The feedback has been excellent, a couple of the members actually thought you were Tina Turner.
A  lot of members have actually seen Tina live and have also seen many tributes, myself included, and you are by far the best tribute we have ever seen, you are so much like Tina in every way its quite unbelievable.  The girls loved the fact you had them joining in with you,
Thank you for a fantastic evening, you made the event and set the tone for the rest of the Rally, we couldn't have asked for more – superb!
Kindest regards,
Chris Taylor WIMA GB Division
Bradford Pride
Hi Kinisha
It was a great performance at Bradford Pride ….maybe we'll be lucky enough to have you back for next year!  Everybody had a fab Tina Turner experience on the night….although I would suggest portable showers and hair driers for those who danced WAY TOO MUCH!!
FLT  Awards 
This is just a brief note to say that Kinisha was excellent at our Awards last Saturday. She performed just as we had hoped. Kinisha quickly picked up the spirit of the evening and really worked hard to meet our needs. She has a fabulous voice and projected all the fun side of Tina Turner. Please pass on our thanks.
Her efforts and her talent were much appreciated.
David Ellison FLTA
Book Now
X
Enquire about Tina Turner Tribute – Simply the BEST!
---